Free Antivirus Software from Microsoft – Microsoft Security Essentials
For a business with multiple computers I recommended a server-based solution or web-based solution to monitor on a single computer.  If you have just a few pc's in your business, you can get by with something like a 3-pack from Norton or Kaspersky.  Home users luck out with free antivirus.
Keep your computer updated with Windows Update and scheduling both the download and installation of updates.
Install the newest version of Adobe Flash Player, Adobe Reader and Java to help keep malware and viruses at bay.
Don't forget to backup your computer regularly.  A cheap external hard drive can be online for less than $100 with more than enough space for almost any user.  An even easier option is to go with an online backup solution like Carbonite that will monitor your computer and automatically back it up to the cloud.  If your computer crashes or gets a virus, you can restore onto the same or even different machine.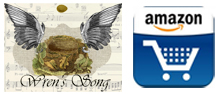 If you are needing any computer accessories, cables, printers, etc…I recommend you purchase them through Wren's Song Amazon Store.  A portion of each sale will be donated to orphans in the Congo.  It's the same selection as Amazon's store and you'll checkout through Amazon, but again, a small percentage of your purchase will go to those in need!
Effortlessly create a detailed mosaic photo built with thousands of your own photographs – Photo Mosaic Software
A great gift for a recent grad, newborn baby, passing of a loved one, vacation photo…
You point the software to a folder of your photos…choose the single image you want at the end and it does the rest.
Best part is, you can print a very nice color copy 16″x20″ at Sams Club and pick it up at one-hour photo in Casper for about $12.  Or use their canvas printing for an even better end result.

Want to connect your BlackBerry/Anroid/iPhone with an iPad, iPod Touch, computer and share with friends and family…call me.